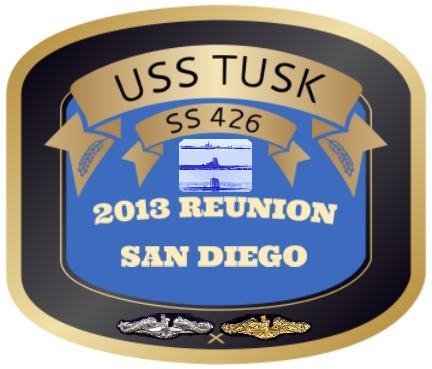 USS TUSK (SS-426) REUNION 10/17/13 to 10/20/13
Our next TUSK reunion will be Thursday, October 17 thru Sunday, October 20, 2013 in San Diego, California at the Crowne Plaza San Diego Hotel. The hotel rate is $107.00 per night plus tax for up to 4 persons per room which includes parking if you have a car. The hotel is allowing our special rate for up to 3 nights before and 3 nights after the reunion which will allow out of state attendees time to properly visit the San Diego area. You can also make your reservations by calling 1-888-233-9527. Please tell them you are part of the TUSK Reunion group.
Reunion fee is $185 per shipmate, $175 per guest prior to 4/1/13 and $210 for all after 4/1/13. Included in the fee is the reception on Thursday, the tours on Friday, the bus and tours on Saturday, the banquet Saturday evening, and the breakfast on Sunday morning as well as food and drink in the hospitality room the entire reunion. We would appreciate receiving your fee by July 1, 2013 so that the hotel can properly plan for our size group and arrangements can be made for our planned events. A copy of the Reunion reservation form is part of this package. Please return it to Ed Farley as shown on the form.
On Thursday evening there will be a reception at the hotel with heavy hors'doeuvres and no host bar. Hospitality room will be open after reception. On Friday we will be touring the USS MIDWAY and the San Diego Maritime Museum. The hotel runs a shuttle to the nearby trolley station where you can take the trolley directly to the MIDWAY and Museum area. There is quite a bit of walking involved for the Midway tour as there are no elevators on the ship. Please let us know if you have difficulty navigating ship's ladders. Lunch will be on your own in the harbor area near the Museum. Dinner is on your own that evening. The hotel shuttle will take us to the nearby Old Town San Diego where there are many good restaurants. The hotel shuttle also offers to pick us up for return to the hotel.
On Saturday we will go to the Submarine Base at Ballast Point and the recently opened Submarine Memorial at the former Naval Recruit Training Center. This will be by bus. We are working to arrange a tour of a nuclear submarine at the Sub Base. That will be subject to the availability of a sub in port to visit as the number of submarines home ported in San Diego is very limited these days. Details of the Sub Base tour will be given out when you arrive at the reunion. A short memorial service will be held at the Submarine Memorial. Saturday evening we will have our banquet which will be a seated dinner at the hotel. Our speaker will be the Commander, Submarine Squadron 11, CAPT Thomas E. Ishee USN.
On Sunday we will have a sendoff breakfast and everyone can depart at their leisure. We hope to get as good an attendance as the past 2 reunions. This reunion will be more California style than others, but just as good!!! By the way, this reunion is being held on the 40th anniversary of the decommissioning of TUSK and transfer to the Republic of China Navy (10/18/73).
West Coast Tusk Reunion Committee
Edward B. Farley Jr.  tufts57@gmail.com
Joseph W. Koch, Jr.  jwkoch@pacbell.net
Doug "Sharkey" Chartier  xarkey@hotmail.com
Dennis Walsh dj_walsh@roadrunner.com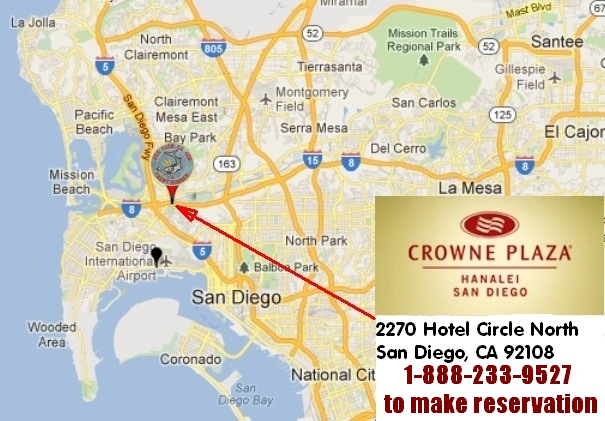 The internet link for reunion hotel reservations is as follows:
http://resweb.passkey.com/go/USSTuskSS426
Shipmates can make hotel reservations TWO ways
1. You can click on the link and make reservations
2. Call 1-888-233-9527 and make reservation. PLEASE NOTE TO ONLY CALL this number 888-233-9527 and not the hotel directly. The reservation center is open from 7:00 am - 11:00 pm, 7 days a week EST.
For Airport Transportation:
Our shipmates can now get a $3.00 to $6.00 off Cloud 9/Super Shuttle. Regular price is $12.00 each way. They can save money and only pay 9.00 one way or 18.00 round trip.
1. Advance reservation is required to get the reduced price see below:
2. Click on the link and go to http://www.supershuttle.com/ and use 7J379 as the group code
3. Call their 24 hour reservation line at 1-800-974-8885 and give the group code 7J379.
Reunion Donations
Thanks to
| | | |
| --- | --- | --- |
| James Connor | Dennis O'Keeffe | |
| | | |
| | | |